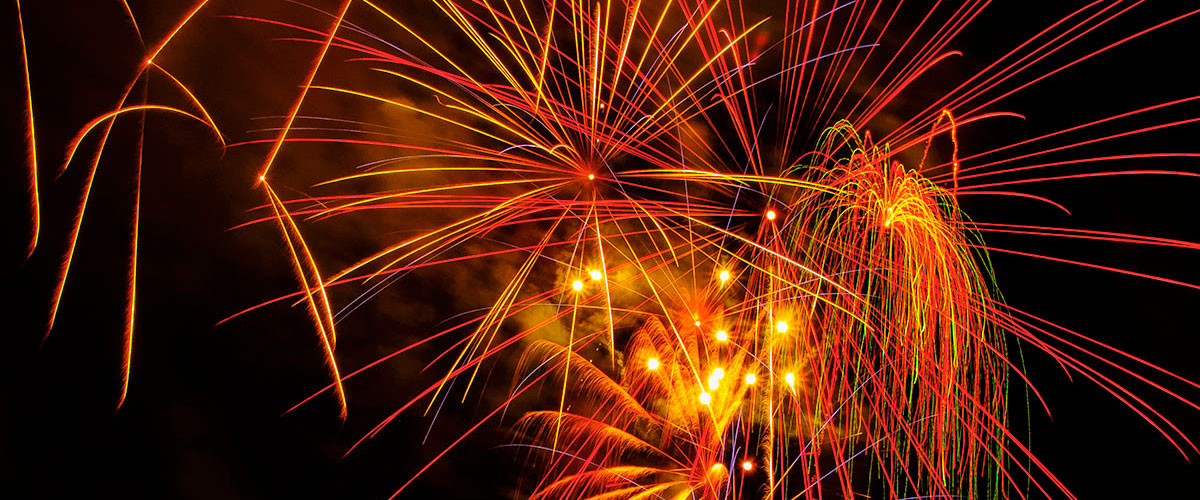 Fireworks
Where can I purchase tickets and what is the cost?
Attendance is limited and advance-purchased tickets are required for entry. THERE WILL BE NO TICKET SALES AT THE GATES.
Why do you charge for what used to be a free event?
We decided several years ago that charging a modest fee would benefit local kids. A portion of the proceeds from the event are donated to the music program at Palisades Charter High School.
---
Consistent with health and safety protocols, we'll do all this in an environment that promotes social distancing and facemask requirements at the time.
---
Is this an "all ages" event?
Absolutely! The diverse program is designed to offer something to people of all ages, from toddlers to seniors.
What time does the event begin and end?
Gates open at 8PM, the fireworks start at approximately 9PM. The event is over by 10PM.
Where can I park?
We encourage walking if at all possible. Limited parking is available in the Palisades Charter High School lot directly west of the school. Additional parking is available on neighboring streets to the east, west, and southwest of the school. VIP reserve parking can also be purchased in advance for $20 at starting in June.
Are pets allowed?
No. Pets are NOT allowed on Pali High grounds, consistent with the site's rules. Trained service dogs under the control of their owner/user who has a disability (where the service dog is working or performing tasks directly related to the individual's disability) are welcome, however. Emotional support and/or comfort animals are not permitted. Guests arriving with pets will need to take them home before being allowed entry.
Is there seating available?
Patrons are encouraged to bring blankets only. No food, drink, chairs, backpacks, coolers etc. allowed. Restrictions will be imposed to comply with governmental authorities and host.
Where do I watch the fireworks? Do I have to negotiate steps from the pre-paid parking lot or entrance?
The Fireworks are on the Pali High Football Field, which is across from the Palisades Charter High School pre-paid parking lot. Pre-paid parking is accessed on El Medio, south of Sunset Blvd. You need to navigate stairs or a ramp to go to the field from the Bowdoin Street sidewalk entrance or from the pre-paid parking spots. Accommodations will be made for disabled guests. Please ask a volunteer for assistance.
Is smoking permitted?
No. The smoking or vaping of tobacco or other products is prohibited in the Stadium or anywhere on the grounds of Palisades Charter High School.
May I bring my own food and drinks to the fireworks?
No. Guests will NOT be allowed to bring in any coolers, food or drinks into the fireworks. Guests arriving with any such items will need to leave them outside or will not be allowed entry
Will food or beverages be available for sale at the fireworks?
No. There will be no food trucks or refreshments of any kind sold or permitted at the event.
How cold does it get?
It never gets really cold but after the sun goes down it can sometimes get a bit chilly requiring only a sweater or light jacket.
How can I support the event?
There are many ways to support the event:
1. Volunteer — there are a lot of small tasks that are to be completed on the staffing end
2. Make a donation — all gifts large and small are much appreciated
3. If you are interested in sponsorship, contact us.
---

---
Sunday, July 4th 2021

---